Sick Vick

Name:
Sick Vick
Additional Info:
Plagued By an Uncommon Cold
Afflation:
Evil Sinistras
Record:
W2, L0
Appearance:
Seasons 3 and 4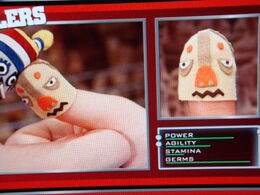 AH-CHOO! Watch out for Sick Vick and his flying boogers! This sick Sinistra has had an uncommon cold for his whole wrestling career, and he's famous for sneezing all over his opponents. In the ring, Sick Vick really puts the muck in mucus! Sick Vick beat
Miss Fitwell
because he sneezed himself inside-out and grossed her out, making her not want to touch him.
Stats:
| | | |
| --- | --- | --- |
| Power: | 81% | |
| Agility: | 56% | |
| Stamina: | 23% | |
| Germs: | 100% | |
Career
Season 3
Sick Vick started his slimy Career Season 3.Against Ms.Fitwell his grossness didn't effect her in round 1. In round 2, she announced that she didn`t think Vick was really ill at all and that he just doesn`t want to do his exercise, so she made him run laps around the ring, exhausting him. In round 3 Sick Vick sneezed himself inside out and grossed Ms. Fitwell into submission.
Season 4
He returned in season 4 against Weredog. Vick faded fast, courtesy of his rash, but Bucks Gazillion showed up to help, giving Sick Vick calamine lotion and turning Weredog into a dog. Weredog was about to lick off Sick Vick's calamaine lotion until Bucks Gazillion called a dogcatcher to capture Weredog.
Ad blocker interference detected!
Wikia is a free-to-use site that makes money from advertising. We have a modified experience for viewers using ad blockers

Wikia is not accessible if you've made further modifications. Remove the custom ad blocker rule(s) and the page will load as expected.