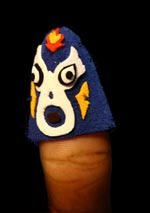 Season 2 is the second season in TWF. The final match was Mr. Extremo vs Senator Skull.
Short Summary
(Note: This summary was taken from the back of the Season 2 dvd's box) Fresh off Hometown Huck's championship win, the Mighty Dexteras seek to defend their title with the help of some newcomers like the gritty Face-Off Phil and the fearless Mr. Extremo. The Evil Sinistras, still stinging from The Big Time's championship loss, have also added to their team's lineup, and this season, Senator Skull is determined to win a TWF title - even if it means breaking a few rules along the way.
People Joined:
Ad blocker interference detected!
Wikia is a free-to-use site that makes money from advertising. We have a modified experience for viewers using ad blockers

Wikia is not accessible if you've made further modifications. Remove the custom ad blocker rule(s) and the page will load as expected.