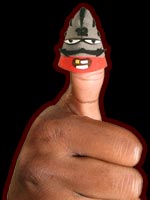 Season 1
is the very first time TWF was shown. Season 1 is probably the most understandable season where the matchs are organized and the most famous wrestlers are shown and all the season 1 wrestlers fight and the
Sinistras
and
Dexteras
were created.This season is the only one with thumber summer. Final match was
Hometown Huck
vs
The Big Time
.
The Big Time
used the Time Bomb on Hometown Huck, but Hometown Huck survived it and used the Hometown Shuffle to beat The Big Time. However, he ran out of energy and both wrestlers hit the mat. Pinky, however, Proved his loyalty to Hometown Huck and the Dexteras, and pushed Huck ontop of The Big Time, giving Huck the pin, and saving the TWF for the while.
People joined:
Ad blocker interference detected!
Wikia is a free-to-use site that makes money from advertising. We have a modified experience for viewers using ad blockers

Wikia is not accessible if you've made further modifications. Remove the custom ad blocker rule(s) and the page will load as expected.