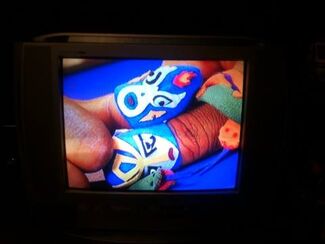 In Round 1, Extremo rides on his skateboard and strikes insulting Nefercreepy twice, but Crafty Nefercreepy interrupts it with a giant wall.
In Round 2, Extremo flies on his jetpack, but Nefercreepy uses a Book of Evil Spells  then lightning Zaps Extremo falling On the Mat
In Round 3, Extremo flies on a hang glider, but Nefercreepy pushes a basket of two snakes as Easy However, Extremo lands on his feet and feeds the Two snakes with Snake Chow. Nefercreepy Scolds the snakes so They Got Angry  they Wrapped Her On the mat and Extremo pins her, advancing to the TWF Semifinals.
Ad blocker interference detected!
Wikia is a free-to-use site that makes money from advertising. We have a modified experience for viewers using ad blockers

Wikia is not accessible if you've made further modifications. Remove the custom ad blocker rule(s) and the page will load as expected.