Mahi Mahi Mindy vs Rolf the Reaper is the 25th episode of Thumb Wrestling Federation and 2nd match of Season 2.
Short Summary
Edit
Ocean conservation activist Mahi Mahi Mindy's cheery outlook is put to the test in the TWF ring when Rolf the Reaper is in the other corner.
Character Appearances
Edit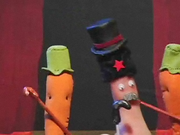 Pregame: Dick greets the fans and tells them what a show they have for them, but Colonel objects, saying he has a show for them, Dick wonders what it is, and Colonel play a clip of him dancing with giant carrots.
Ad blocker interference detected!
Wikia is a free-to-use site that makes money from advertising. We have a modified experience for viewers using ad blockers

Wikia is not accessible if you've made further modifications. Remove the custom ad blocker rule(s) and the page will load as expected.