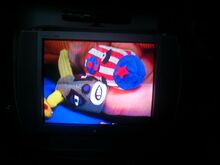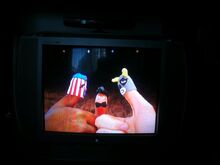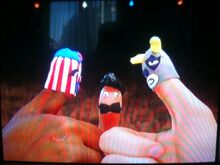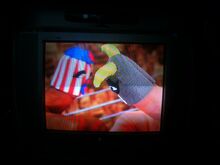 www.youtube.com/watch?v=5_2qKBolMR0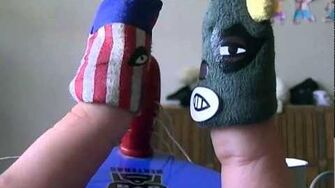 03:33

TWF James montgomery flag vs big bad billy goatetsky

03:33

TWF - James Montgomery Flag vs. Big Bad Billy Goatetsky-0

03:34

TWF Trash Talk - James Montgomery Flag vs. Big Bad Billy Goatetsky

James Montgomery Flag vs Big Bad Billy Goatetsky

Episod:
66
Meci:
12
Sezon:
4
Câștigător:
James Montgomery Flag
Următor:
The Visitor Vs Hometown Huck
Anterior:
Unitate 19G vs Corbata
Runda 1
ro bo lovește Goatetsky de trei ori și de asteptare l-vechi, care sa retras Dar Billy spune El sa retras în urmă cu zece ani, dar toată lumea nevoie de un ochi pentru hit-uri și ah ah ah. billy Sa hobby-ul său propriu Lovirea ro bo Apoi Flies să-l headbutt dar Billy headbutt El jos ca ca
Mesaj Round
dolari va oferi o minge de la ro bo și Billy este în afara pentru a câștiga runda, dar o Goldfish On ro bo și Billy spune nu la bară Goldfish de Evil Ira.
Runda 2
Goatetsky spune Young persoanele cu toate Totul James și statele sale Mutare The Star Spangled Slammer lovește Billy cinci ori, apoi Grunts ca amețit, billy-l lovi cu piciorul
Mesaj Runda 3
ro bo lovește Bily de 10 ori și el nu poate lovi în jurul capului de capră, și ah ah ah El ar trebui să învețe inteligent pentru El jura jos decât l doboare
Runda 3
ro bo spune Billy Încercați să-l prindă, Billy și hit-uri Run Run Run și fugi!!! dar a fost rău la circuland n, ro bo execută în jurul valorii de mai multe ori atunci răul Ira le spune pentru a trage switch Acum, Ira crede că nu va merge, Mugsy le spune să-l trage Sau să-l lovește Dar răul ira spune că nu poate îi lovește atât de el și Scott Quit, Lăsând Mugsy a face el însuși. el a căzut cinci goldfishes Dar clunk billy cap din ce în ce nevătămat, afirmă Billy o usa, dar Pins ro bo rupere lant de ghinioane ca o revenire În cazul în care este un videoclip pentru acest meci
☀www.youtube.com/watch?v=SmZ0GtrdyJw
? Doa
mne-l darn!
Ad blocker interference detected!
Wikia is a free-to-use site that makes money from advertising. We have a modified experience for viewers using ad blockers

Wikia is not accessible if you've made further modifications. Remove the custom ad blocker rule(s) and the page will load as expected.