Round 1
Mugsy tries to hit Huck with his wooden crowbar, but Huck avoids all the hits. Mugsy says that the counterfeit dollar bills in his pockets are restricting his swinging motion. Huck uses a new move called The Omaha Hayride, where Huck knocks a Hay Bale into Mugsy.
Round 2
Huck says he is going to win for his fans. Mugsy tells Huck to ask what his fans really think of him. Mugsy and his goons pay off Hucks fans and Huck has lost his fighting spirit. Mugsy punches Huck once and pins him.
Round 3
Huck says that not even Mugsy can take away his fans. Mugsy, who is playing poker with his minions, sends them to take out Huck. Huck moves out of the way and Mugsy's minions collide with each other. Huck uses the Houston Huckster and pins Mugsy.                                                                           
                                                                                                               Outcome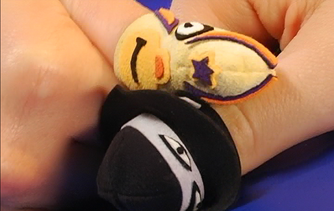 Ad blocker interference detected!
Wikia is a free-to-use site that makes money from advertising. We have a modified experience for viewers using ad blockers

Wikia is not accessible if you've made further modifications. Remove the custom ad blocker rule(s) and the page will load as expected.