Gogachog
Name:
Gogachog
Description:
Prehistoric Cave Dweller
Afflation:
Mighty Dexteras
Stats:

| | |
| --- | --- |
| Power: | |
| Agility: | |
| Stamina: | |
| Intelligence: | |

Record:
0W-3L
Seasons:
Seasons 3-5
Portrayal:
Marc Thompson
Gogachog is a prehistoric Dextera Thumb Wrestler, making his first appearance in season 3
Background
This caveman from prehistoric times doesn't quite fit into this millennium. Gogachog might not be too smart but he has the strength of a thousand stampeding buffaloes, and he can crush any Sinistra into a million pieces! (That is if he doesn't think they're his friends.)
Personality and Battling Style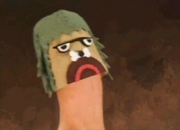 Gogachog always means good, even if it doesn't look good. He has little intelligence, and is often the victim of his own stupidity.
Battling Style
Gogachog always fights his opponents directly. He is powerful enough to defeat anyone, however his stupidity usually backfires on him.
Career
Season 3
Gogachog began his career battling his fellow ancient wrestlers The Lost Viking.
See: The Lost Viking vs Gogachog
Season 4
Returning for Season 4, Gogachog fought it out against the queen of mean.
See: Queen Nefercreepy vs Gogachog
Season 5
Gogachog returned to battle against the futuristic alien The Visitor.
Trivia
Ad blocker interference detected!
Wikia is a free-to-use site that makes money from advertising. We have a modified experience for viewers using ad blockers

Wikia is not accessible if you've made further modifications. Remove the custom ad blocker rule(s) and the page will load as expected.