Dwayne Bramage

Name:
Dwayne Bramage
Additional Info:
Completely out of his mind
Afflation:
Evil Sinistras
Record:
W0, L1
Appearance:
Season 2
This demented Sinistra may have taken a few too many blows to the head. He's a tough guy, but he's totally out to lunch, and no one can understand anything that he is saying! Dwayne's hometown is Choo-Choo town as said in his trash talk with Wasabi. When Dwayne chewed on the ropes, he said it was pineapple pie. He survived The Best Poem Ever for being too crazy to understand it,but lost when he thought he was a magical unicorn. His special is The Brain Buster. He said,"UNICORN DOWN!!! UNICORN DOWN!!!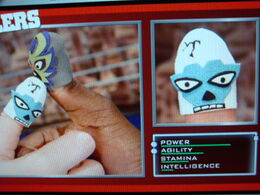 Trivia
He is the 2nd dumbest wrestler in the TWF.
In his match with Wasabi, it is revealed that a horrible accident was the reason he was crazy. But it is not revealed what it was however.
His name is meant to be a play on the term 'Brain Damage'
Ad blocker interference detected!
Wikia is a free-to-use site that makes money from advertising. We have a modified experience for viewers using ad blockers

Wikia is not accessible if you've made further modifications. Remove the custom ad blocker rule(s) and the page will load as expected.