Dorsal Flynn

Name:
Dorsal Flynn
Additional Info:
Fish Out of Water
Afflation:
Mighty Dexteras
Record:
W0, L1
Appearance:
Season 1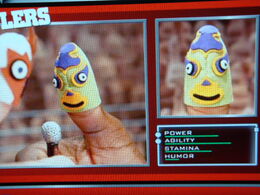 Dorsal Flynn is a bad comedian that quit comedy and decided to try thumb wrestling. Even though he's old and even if he's not funny (sorry, but it's true) he still has the special
The Blow Hole
that shoots water at the challenger. He also finishes most of his sentences by: "YOU SEE!" or "SEE!" But he has been the TWF Interviewer for extra activity.

Stats
Power:30%
Agility:53%
Stamina:45%
Humor:20%
Career
Season 1
He went against The Big Time, but was taken out quick

See: The Big Time vs Dorsal Flynn
Trivia
Ad blocker interference detected!
Wikia is a free-to-use site that makes money from advertising. We have a modified experience for viewers using ad blockers

Wikia is not accessible if you've made further modifications. Remove the custom ad blocker rule(s) and the page will load as expected.