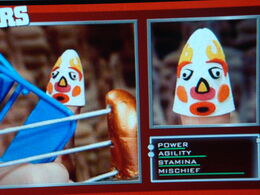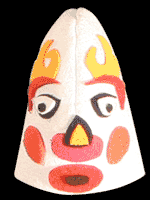 This scientist sinistra crony is always around to help orchestrate devious doings. If he's involved then whatever's happening can't be good. He helped
N Fuego
by throwing a
chair
on to
Unit 19G
. And appeared in the
Season 2
championship where he was leading
Senator Skulls
evil plan with
Laughing Loony
and
Snagglefangs
. In the
Sinistras Headquaters
Billy Batboy
turned him to a birthday cake. In Senator Skull's match against
Face-Off Phil
Senator skull told him to throw a chair at phil however
The Ref was
looking right at them which cheeko automaticly noticed. there is a store that says that he was suposed to fight
Fly Guy
in
Season 5
and win, but everyone forgot untill the semi-finals, so the match was scraped (for now). He made his latest appearance in
Season 5
 anyway, when Danny Kaboom battled The Black Knight, trying to help The Black Knight by letting TBK ride him like a horse while his was in the shop. In Round 3, Danny blasted TBK's helmet on backwards, and without a field of vision, he thought Cheeko was Danny, so he knocked him out cold.
Would make a good wrestler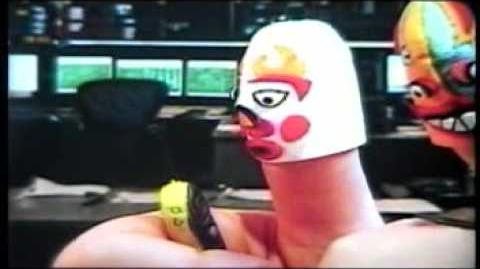 Ad blocker interference detected!
Wikia is a free-to-use site that makes money from advertising. We have a modified experience for viewers using ad blockers

Wikia is not accessible if you've made further modifications. Remove the custom ad blocker rule(s) and the page will load as expected.